MY CCAD: November 7, 2016
GO VOTE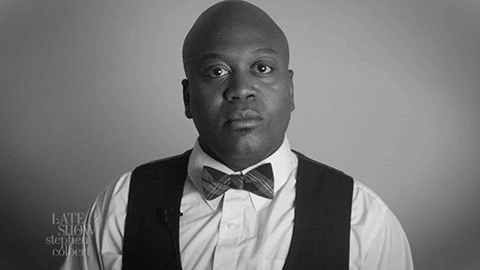 Tomorrow is Election Day. Go vote, y'all.
STUDENT ACTIVISM IN ACTION
The Black Student Leadership Association came together last week to paint a Black Lives Matter mural on the Admin Building. (Check it out if you haven't had a chance.) They were assisted by students from the Queer Alliance and Empowering Females on Campus (EFOC). (EFOC also has some creative posters around campus that call attention to societal perceptions of women. Check them out, too!) Read more here
SHARE YOUR STORIES
CCAD students do amazing things, and we want to brag on you. But first we need to know what you're up to. Doing something cool outside of the classroom? Have a class project you love? Have something cool you've posted on Instagram? Tell us your stories.
Y'ALL ROCKED BIG BOO
Congrats to the costume contest winners:
1st place: Nicole Cox, Maria Hypes, & Ridge Holt "Rocky Horror Picture Show"
2nd place: Kristen Wyant "Google Chrome"
3rd place: Charlie Boggus and Sarah Kimbrell "Bob Ross and the Happy Cloud"
SIGN UP FOR CLASSES
Pre-registration for spring 2017 classes starts Monday, Nov. 14, for freshmen. Read more here.
AND WHILE YOU'RE SIGNING UP FOR THINGS...
Don't have health insurance? You can sign up now at healthcare.gov, where open enrollment for health insurance for 2017 is underway.
GET YOUR TURKEY ON
The CCAD Family Thanksgiving Meal is Monday, Nov. 21. Read more here.
MEET AN ALUM WORKING AT DISNEY
CCAD alum Andy Harkness is coming to campus for Career Services' ROC Show on Tuesday, Nov. 15.Read more here.
MORE THINGS TO DO
We know you're all busy, but there are some really cool things happening in the next couple of weeks. Here are some highlights. For a full listing of events, go to my.ccad.edu/calendar. 

ON CAMPUS: 
Wednesday, Nov. 9: Red Wheelbarrow: A Student & Faculty Creative Writing & Reading Series
Thursday, Nov. 10: Beeler Gallery Visiting Artists & Scholars: Fred Seibert & Write On!
Sunday, Nov. 13: LGBTFest | Opening Night 
Tuesday, Nov. 15: Greater Columbus Arts Council forum at CCAD & LGBTFest | Doc Night
Wednesday, Nov. 16: Pizza with a Purpose & Art Fair Workshop
Thursday, Nov. 17: Beeler Gallery Visiting Artists & Scholars: Fred Wilson, LGBTFest | Slash & Local Fashion Employer Workshop 
Friday, Nov. 18: LGBTFest | Shorts & Awards Night

OFF CAMPUS: 
Thursday, Nov. 10, at the Pizzuti Collection: Sandra Ramos Artist Talk at the Pizzuti Collection
Wednesday, Nov. 16, at the Drexel: LGBTFest | Film Pioneer Spotlight
Saturday, Nov. 19, at the Drexel: LGBTFest | Closing Night
PUT IT ON YOUR CALENDAR 
The 65th Columbus International Film + Video Festival is coming next year: April 20 – 23, 2017. Read more here.
STUDENT SPOTLIGHT 
Name: Elum Johnson IV
Major: Animation
Class year: 2020
Favorite spot on campus: Kinney Hall
Last show you binge watched: Sense 8 and Young Justice
Favorite event at CCAD: CCAD Family Weekend
Most played song on your playlist right now: Little Dragon: Cat Rider
Your time at CCAD in 3 emojis: 

Current artist/designer crush: Marcus Williams (Marcus the Visual)
Favorite thing about CCAD: The many different unique and different styles of creating art from such a young crowd of people.
QUESTIONS? COMMENTS EXPRESSED ONLY IN EMOJIS AND/OR MEMES?
We want to hear from you. Email myccad@ccad.edu.