MY CCAD: October 10, 2016
FALL BREAK IS ALMOST HERE!
It's happening Oct. 12 – 14. Click here to see a list of what's open and what's closed. And if you stick around, make sure to see Roxy Paine speak at Beeler Gallery on Oct. 13 or check out Cartoon Crossroads Columbus, the city-wide comics festival on Oct. 12 – 16.
OPEN FORUM WITH DR. CORN
Join Student Government for a conversation with President Corn about CCAD's new strategic plan, an update on the college mascot contest, and more. Plus, free cookies and drinks. 
TODAY. 11 a.m. – noon. Canzani Center Auditorium.
SIGN UP FOR CLASSES
Pre-registration for spring 2017 classes starts Monday, Oct. 17, for juniors. Read more here.
JOB & INTERNSHIP FAIR IS OCT. 21
Register at ccad.edu/job-fair.
REGISTER TO VOTE
Visit ccad.turbovote.org to register to vote, update your registration, or receive an absentee ballot.
Voter Registration Deadline: Oct. 11 (TOMORROW)
Election Day: Nov. 8

Plus, learn more about the election at this month's Pizza with a Purpose from 11 a.m. to noon on Wednesday, Oct. 19.
GET YOUR COSTUME READY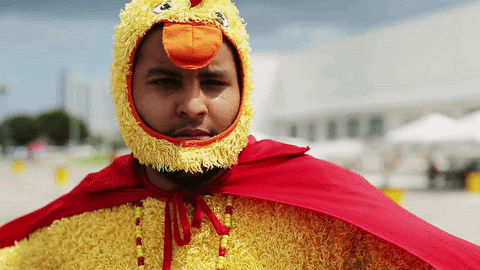 Big Boo is happening Friday, Oct. 21, from 7:30 to 10 p.m. at Axis Nightclub in the Short North. Learn more and see where to buy tickets here.
DIVERSITY RETREAT
The CCAD Diversity Retreat is happening Nov. 4 – 5 at Salt Fork Lodge. Learn more and find details about how to apply here.
STUDENT SPOTLIGHT 
Name: Tyler Davis
Major: Fine Arts
Class year: Junior
Favorite spot on campus: The Green Chair in the middle of the Quad
Last show you binge watched: My Name is Earl
Favorite event at CCAD: The ones with food & Welcomefest
Most played song on your playlist right now: I Love You by Lil Yachty
Your time at CCAD in emojis: 

Current artist/designer crush: Kevin Beasley
Favorite thing about CCAD: Being able to use the labs until 2am!
 IT UPDATE 
Every week, between 9 p.m. Friday and 3 a.m. Saturday, IT performs server maintenance. So expect interruptions to campus IT services during that time. (And FYI, at the end of the semester, IT suspends maintenance that affects lab computers.) Click here to see the lab maintenance schedule.
QUESTIONS? COMMENTS EXPRESSED ONLY IN EMOJIS AND/OR MEMES?
We want to hear from you. Email myccad@ccad.edu.