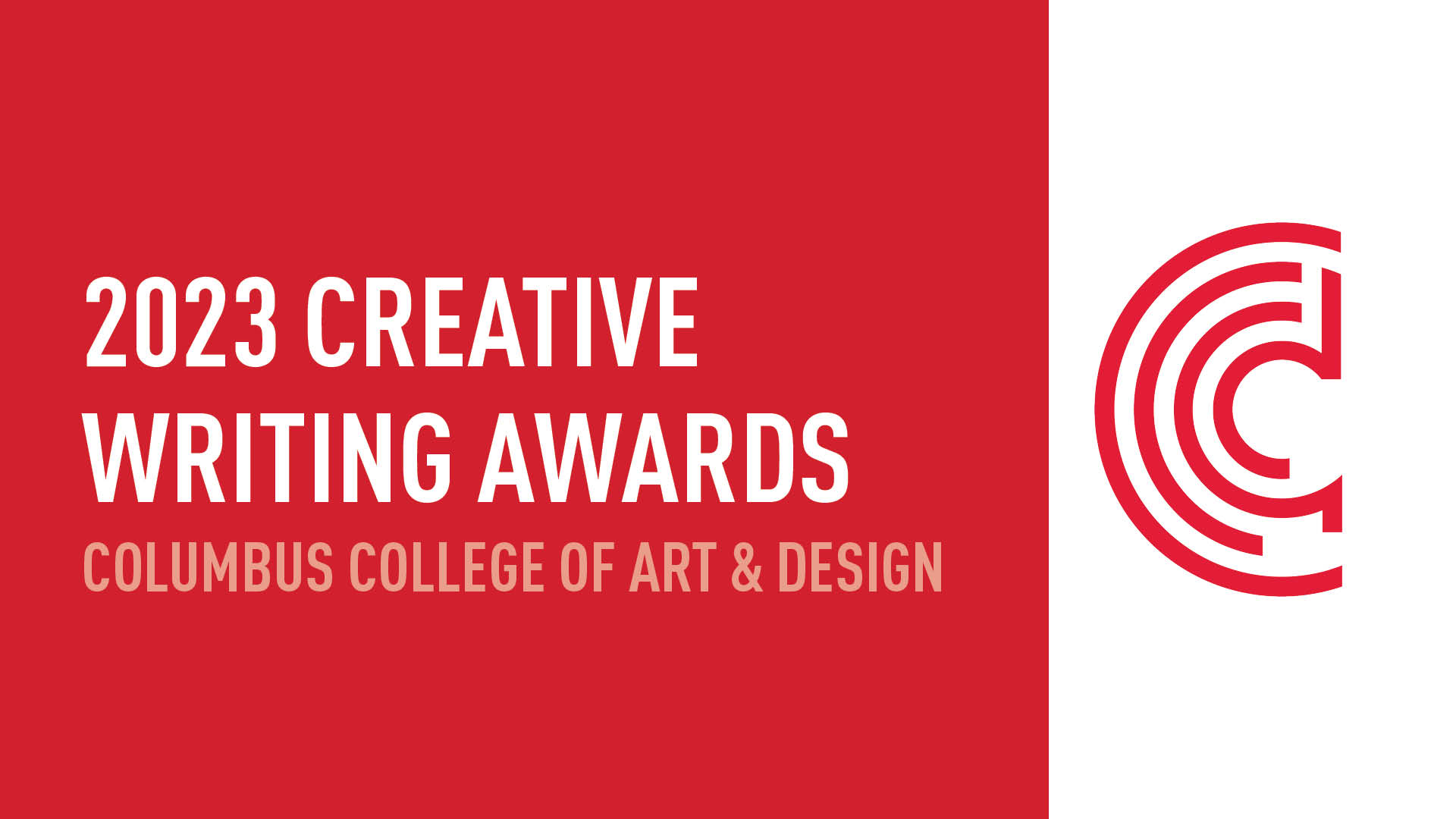 For the eighth year, Columbus College of Art & Design has recognized students' talents with the written word with its Creative Writing Awards. Students submitted work in the categories of Poetry, Prose, and Screenwriting; first and second place awards were given for each category. 
The Creative Writing Awards are open to current CCAD undergraduates only. Students may submit in more than one genre and do not have to be Creative Writing minors or have taken creative writing courses to submit. All entries were evaluated by judges from outside the CCAD community via a double-blind review process. The judges were asked to choose the best single works (e.g., a winning poem, prose piece, screenplay, not a student's submitted body of work). 
"As always, our students' talent, insight, and courage are inspiring in this challenging world," says Writing, Literature & Philosophy Department Head Robert Loss regarding this year's field of entries.
The categories and winners for 2023 are as follows: 
Creative Writing Award: Poetry
Winner: "VIII" by Eden Breinich (Advertising & Graphic Design, 2025)
Judge's comments: "I chose 'VIII' as the CCAD poetry writing award winner because it's two, maybe three (maybe hundreds of) poems in one, a narrative inside a narrative. It is a reminder—and a demonstration of—the ways that the past and the future somehow always seem to find a way to mirror each other in the present. Additionally, I would note that the poem is an erasure where, fortunately for the speaker, nothing was (or in the poem is) erased, but unfortunately for the speaker (and all of us), no one—not even those who we love most—lives forever. Death is the ultimate erasure. Our human predicament is a predicament for sure. Each of us has/is a story similar to and different from all the other stories, but all the stories begin and end. I found myself thinking about this piece days after I first read it, wondering how many other stories exist in any given story one tells; how many poems are there in any given poem to constellate? What can we read in the present through the past about the future? Isn't it astonishing that anything exists at all, and that we, in language, have the opportunity to describe it in all its complexity and layered meaningfulness?"
Runner-up: "Swallowing Words" by Ian Drescher (Illustration, 2025)
---
Creative Writing Award: Prose
Winner: "Middle Name" (fiction) by Sophia Reza (Animation, 2023)
Judge's comments: ''Middle Name' is a coming-of-age story where the protagonist, Rachel, runs into an annoying classmate on her walk home from folklorico dance class after she realizes her mother, a busy doctor, has forgotten her yet again. This fictional piece has a nostalgic, neighborhood setting and explores a simple but profound exchange between two high schoolers who don't really like each other but who share a cultural connection that might mean more than they first realize."
Runner-up: "Ever We Fight On" (creative nonfiction) by Noah Munier (Illustration, 2026)
---
Creative Writing Award: Screenwriting
Winner: A Tale of Deep Sea Memories by Patrick Thibodeaux (Film & Video, 2025)
Judge's comments: "The winning script does a really nice job leveraging scientific/marine jargon to create a grounded premise before twisting this reality into an intriguing (and frightening) mystery. The supernatural element feels fresh and there are some truly memorable visuals conjured from the writing, as well as some real suspense that preys on primal fears and pits. The writer did well to quickly establish characters that are different from each other and have distinct, if not mysterious, motivations. This sample could develop into a promising feature script exploring how often our quest to understand nature is really a quest to understand ourselves."
Runner-up: Noise Complaint by Jesse Perry (Animation, 2023)
The first-place winner in each category will receive $300 and publication in this spring's print issue of Botticelli while the runner-up receives $100 and possible publication in a future issue of Botticelli. Additionally, award recipients have the option of reading from their work at the Red Wheelbarrow reading at Chroma: Best of CCAD on Friday, May 12, 2023. Breinich, Drescher, Reza, and Thibodeaux are scheduled to speak at this year's Red Wheelbarrow.
Donations from Bob Redfield and Mary Yerina have provided ongoing support for the Creative Writing Awards. 
---
About the 2023 Creative Writing Awards judges
Special thanks to this year's judges for their generous time and expertise. Read more about this year's judges:
Ben Glass is the head writer on a TBA Netflix/DreamWorks TV series. His previous credits include Comedy Central's Blark and Son, Disney Channel's Gabby Duran & The Unsittables, and Disney XD's Kirby Buckets. Additionally, he's developed series/films with Amblin, Vimeo, and Titmouse Inc. 
Matt Hart is the author of FAMILIAR (Pickpocket Books 2022) and nine other books of poems. Additionally, his poems, reviews, and essays have appeared or are forthcoming in numerous print and online journals, including American Poetry Review, Big Bell, Conduit, jubilat, Kenyon Review, Lungfull!, and POETRY, among others. He was a co-founder and editor-in-chief of Forklift, Ohio: A Journal of Poetry, Cooking & Light Industrial Safety from 1993 to 2019. Currently, he lives in Cincinnati where he teaches at the Art Academy of Cincinnati, co-edits the journal Sôrdəd, and plays in the band NEVERNEW. 
Angie Romines is a writer, teacher, and Dolly Parton enthusiast living in Columbus with her husband, two sons, and emotionally needy rescue pup. She received her Master of Fine Arts from The Ohio State University where she now teaches for the English Department. A recipient of the Ohio Arts Council's Individual Excellence Award, Angie's prose has been published in The Rumpus, Image (Good Letters), The Columbia Review, and elsewhere (links at angieromines.com). She is currently working on a collection of essays that explores the dark histories of Kentucky women in her family tree.
Learn more about the Creative Writing Awards here, or click here to learn more about applying to CCAD.