Office of Student Records
Resources
Change Major/Minor/Concentration
Consent to release information
Take courses at partner colleges
Undergraduate Independent Study Application
Graduate Independent Study Application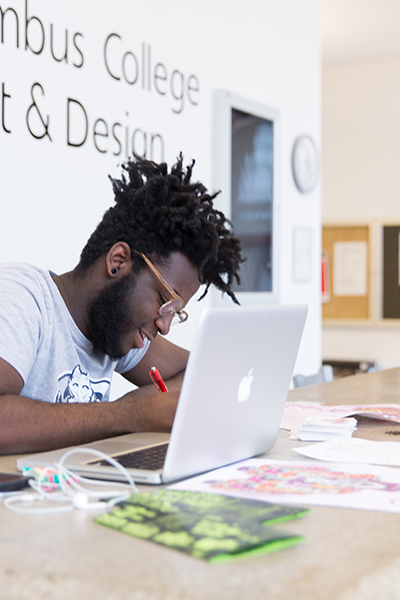 FAQs
What is the address and fax number to Student Central?
Columbus College of Art & Design
Student Central
60 Cleveland Ave.
Columbus, Ohio 43215
The fax number is 614.222.4034 and the phone number is 614.222.3295.
How can I log into Self Service?
Your Self Service "Username" is the first part of your CCAD GoMail (before the @go.ccad.edu).
Username example for [email protected] would be JSmith.1.
Password: To improve security, your Self Service password follows this pattern: JS.123456.
Uppercase first initial of first name, uppercase first initial of last name, followed by a period '.' and then the last six digits of your US Social Security Number (no dashes).
If you don't know your last six digits or don't have a Social Security Number, please contact the Registrar at 614.222.3295.
How do I add classes/drop classes?
Current students can add and drop courses online from the first day of pre-registration to the last day to add. After the last day to add you must come to the Student Central to fill out an add/drop form to drop courses. First year students must add/drop their courses at Student Central; online registration is not permitted until your third term at CCAD.
How can I make an online payment?
To begin using CCAD ePayment, authorized students can log on to Self Service by using your CCAD Username and Password. Once you have logged on to Self Service, click the Finances tab, click the Balancelink to view your balance information, and then select Make a Payment. You will be re-directed to the CCAD ePayment center, where you can then follow instructions there to make a payment, purchase additional items, sign up for eRefund and/or create Parent PINs.
CCAD ePayment services include:
Make domestic payments using eCheck (ACH). There is no service charge for making payments via eCheck (ACH).
Make payments using Visa, Master Card, Discover, and American Express (online only). Please note that a non-refundable 2.75% service charge is added to all credit card payments.
Purchase additional items such as parking passes.
Sign up for eRefund.
Setup parents, guardians or other authorized users with Parent PINs for making online payments via CCAD ePayment (CashNet).
FALL 2022 REGISTRATION ACCESS SCHEDULE
·The deadline for registration (adding courses) for fall 2022 is Friday, August 26, 2022 at 5:00pm.
Seniors/Honors/Graduate (completed 90.0 or more credits, are in the Honors program, and Graduate students)
               Registration begins Monday, February 21 12:01am and closes Sunday, February 27 at 11:59pm
*Priority Registration (Priority registration status)
               Registration begins Monday, February 21 12:01am and closes Sunday, March 27 at 11:59pm
Juniors (completed 60.0-89.9 credits)
               Registration begins Monday, February 28 12:01am and closes Sunday, March 6 at 11:59pm
Sophomores (completed 30.0-59.9 credits)
               Registration begins Monday, March 7 12:01am and closes Sunday, March 13 at 11:59pm
Freshmen (completed 0 – 29.9 credits)
               Registration begins Monday, March 21 12:01am and closes Sunday, March 27 at 11:59pm
All registration will be closed Monday, March 28 –Tuesday, March 29.
Once each class level has the opportunity to register, registration will re-open Wednesday, March 30.
If you do not register during your assigned access time, you may be subject to a $150 late registration fee and will not be able to register until Wednesday, March 30.
Weekly add/drop schedule for 16 week full session courses
Fees to drop classes
Weeks 1-2: 10% of tuition
Weeks 3-4: 40% of tuition and 100% of lab fees
Week 5: 80% of tuition and 100% of lab fees
Weeks 6-16: 100% tuition and lab fees
Electronic official transcripts
Official electronic transcripts can be ordered online. The transcript fee is $10 per transcript for regular processing (five to seven business days). Keep in mind that last-minute requests are difficult to process during certain periods of the academic year.
Online: Go to this secure website https://www.parchment.com/u/registration/37625/account.
Online transcript requests that are submitted while the college is closed for the holidays will be processed in the order they were received when the college offices reopen. If you need to attach a document to be included with your transcript you can do so on this website. 
Enrollment verifications and unofficial transcripts
Enrollment verifications or unofficial transcripts are free and can be requested by filling out the "Consent to Release Information form". All requests must include your full name, ID number, signature, number of copies desired with the complete names and addresses of the individuals or organizations that will be receiving the transcript.
For more information, contact the Registrar at [email protected].