Enmity || Work by Kasie Kissel
Tuesday, March 28–Tuesday, April 4

Reception: 5-7 p.m., Thursday, March 30
Location: Byers Gallery 
Artist's statement
Enmity attempts to personify the abandoned home, using this personification to explore themes of trauma and decay. The installations in this show are meant to represent the ghost of the space, utilizing ethereal materials to highlight the ephemeral nature of the home. The use of building materials is meant to call to mind the structure in which it resides, stripping the house down to its bare elements. By confronting trauma and abandonment through the home, the viewer can connect with a being outside of themselves, allowing for a deeper connection and a safe place to examine their experiences with trauma.
About the artist
Kasie Kissel is a senior at Columbus College of Art & Design in Columbus, Ohio where she is completing her BFA in Fine Arts and her minor in Art History. Kissel works in abstract sculpture, oil painting, and installation, exploring themes of trauma and relationships and how the two affect each other. Mediums that Kissel has experimented with include plaster, paper, fiber, and found objects. She is always looking to expand her creative horizons and is always eager to learn about new material. Most recently, Kissel was included in the 2023 Guts show, the 2022 Senior Show, and the 2022 CCAD Chroma exhibit for her work in sculpture.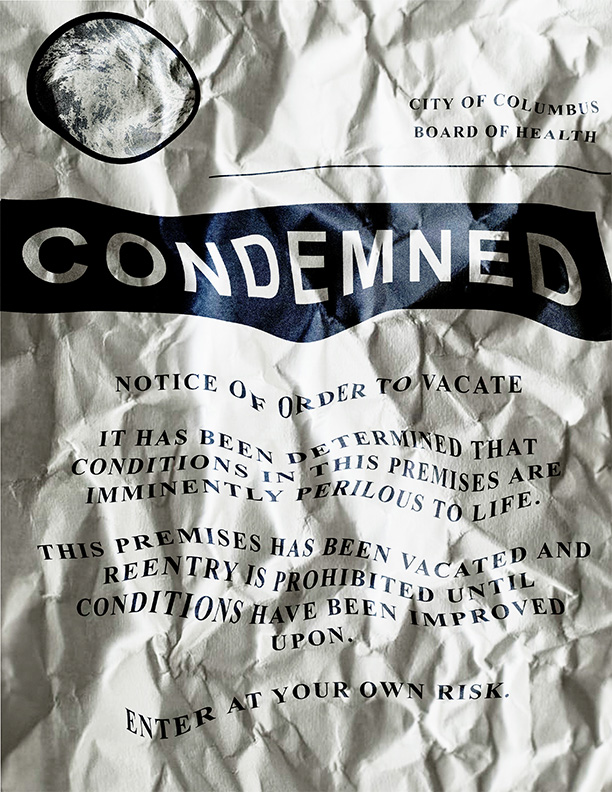 Image title: CONDEMNED
Medium: Digital Poster
Size: 8.5 x 11 inches
---
Head to the Student Galleries page for a list of other Fine Arts exhibitions on view in spring 2023.