Career services
Quick links
Job searching & career planning
Who to contact
Office 
Career Services is temporarily located on the 1st floor of Crane in the Student Affairs hallway.
Appointments
Schedule an appointment with an advisor on Handshake.
Contact
[email protected]
614.222.4045
Jordan Bell
Assistant Director 

The Office of Career Services is your one stop shop for career planning, professional development, and more. Managed by a team of passionate career advisors and students, Career Services is designed to connect you with rewarding career opportunities both during your time at CCAD and after graduation.
Here, you'll find a variety of different career resources that have been carefully curated to guide your own professional development. They're full of great content to help prepare you for the workforce.
Career Planning & Job Searching
Online Job Board
Internships
Career Events
Semi-Annual Art Fair
A few of our frequently-discussed advising topics are included below:
Resume & cover letter reviews
Interviewing best practices
Internship & job searching
Internship for credit questions
Web presence and social media best practices
Have a specific question or want to schedule an appointment with a career advisor? Schedule appointments through our job board, Handshake. You can access this service using your CCAD single-sign on credentials. 
We look forward to connecting with you!
---
Job searching & career planning
Your professional career starts the moment you arrive at CCAD, and if you plan appropriately, finding the right career opportunity can be a rewarding and fulfilling process. To help, Career Services offers the following resources:
Interviewing Assistance: Skill development career appointments, workshops, mock interviews and more.
Job Searching Best Practices: Appointments with a career advisor, including tips on finding internships and post-grad employment, networking with potential employers and maintaining your professional presence (online portfolio, website, LinkedIn, Behance, etc.).
Networking Events: R.O.C. Show presentations with employers, portfolio reviews and class visits, Internship & Job Fair, and Connections Career Fair.
Explore all these areas and more by going to our Virtual Career Services Office where we have posted all our workshops, guides, and video walk-throughs on common advising topics. (Note: This is a private website that only works if you are logged in to your CCAD Google account.) This is a great place to start if you are beginning to explore career options, preparing for your internship or job search, or are in the midst of looking for a position. We cover topics that help with all parts of your search. Schedule an advising appointment to continue the conversation. 
In addition, we also recommend the following four-year plan to supplement the career search process.
Freshman Year
Understand major/direction
Learn to document/photograph your work
Meet with Career Services to discuss strengths
Register at the CCAD job board
Attend career workshops
Boost your Personal Brand (social media presence)
Apply for on-campus employment
Follow CCAD Career Services social media channels on Facebook and Twitter
Attend R.O.C. Show employer events
Junior Year
Update your resume and continue to boost your Personal Brand
Continue mock interviews
Continue attending career workshops
Attend the Internship & Job Fair
Attend networking events
Land an internship
Attend R.O.C. Show employer events
Sophomore Year
Draft and upload your resume to the CCAD job board with images of your work
Continue to boost your Personal Brand (LinkedIn profile, online porfolio, etc.)
Create "Search Agents" on the CCAD job board
Continue attending career workshops
Research internships and apply for resume-building opportunities
Network at the Internship & Job Fair
Attend R.O.C. Show employer events
Senior Year
Continue updating your resume and boosting your Personal Brand
Attend Internship & Job Fair and Connections Career Fair
Land another internship
Continue attending career workshops
Attend networking events
Build a list of target employers for full-time careers
Apply for full-time positions, graduate school and/or residencies
Attend R.O.C. Show employer events
Career advising appointments can be scheduled on the CCAD job board. Feel free to contact us using our email or phone number for other questions or assistance. Before your first advising appointment, please complete the Career Services Advising Form so we can get to know a little more about your career interests before you come in.
---
Online job board
Search through a variety of art- and design-oriented career opportunities for CCAD students and alumni, including part-time/full-time jobs, freelance work, internships, contests, nonprofit volunteer opportunities and more. Simply create a student account at the URL above. Select internship opportunities may be eligible for credit. Please review Internship for Credit criteria for more information.
How to login: Your username is your full @go.ccad.edu email address. Use the 'forgot password' link if you have never logged in before, or can't recall the password you created. Instructions on how to create a password will then be emailed to you. Still need assistance? Contact [email protected].
---
Internships
CCAD offers internship search assistance through individual appointments, the CCAD job board, the Internship & Job Fair, R.O.C. Show presentations, class visits, portfolio reviews and more.
Once you've secured an internship, it may be possible to earn academic credit with your internship by simultaneously enrolling in the Internship 4851 course.
Internship course
The Internship 4851 course is designed to help you increase and develop your practical knowledge while applying classroom theory to real-world problems. A portion of the course requirements are on-site work hours and the remaining are writing and a presentation to facilitate your learning. This class is restricted to students with approved internships.
Internship 4851 is a pass/not pass course. You must complete all requirements and earn at least 75% to pass. Once enrolled, you will find the syllabus, assignments and deadlines are posted on GoStudio. Coursework includes:
Work for a minimum of 240 hours within 12-16 weeks under the supervision of a professional in your industry.

Construct 5+ learning objectives for your experience and detail how you plan to achieve them.

Complete internship updates

Complete the final paper and presentation.

Complete the final self-evaluation and have your supervisor evaluate you.
Application process
You must complete and submit your Internship 4851 Course Application to Career Services before starting your internship and no later than the Friday before classes begin in the semester in which the internship will occur. Internships that do not clearly relate to department content are referred to the department chair. When you submit your Internship Course Application to Career Services, a career advisor will confirm your approval and submit your materials to be enrolled in the course
A complete application consists of:
You will need to submit t

he 

Internship Course Application

. Completing this document is a requirement. It requires input and a signature from your internship employer. (Note: this website only loads when you are logged in to your CCAD Google account). 

(International Students only): You will need to submit the Curricular Practical Training (CPT) form. You will need to request this from the International Student Advisor.
If you have questions about the required materials or application process, schedule an appointment with us through the CCAD job board.
Requirements for approval of an internship
The internship experience spans the duration of a full semester (Fall, Spring: 12-16 weeks; Summer: 8+ weeks).

The internship includes at least 240 on-site work hours completed during the semester if seeking 3 credits. Must include 320 hours if seeking 6 credits. "Virtual" experiences are not permitted.

The work is directly related to your major area of study.

There is a supervisor to guide you throughout the entire internship.

The supervisor is an industry professional within your major area of study or has comparable experience.

You and the supervisor outline and define learning objectives to complete during the internship.

The supervisor completes an end-term evaluation of you.
Student eligibility and policies
You agree to complete all coursework.

You agree to represent CCAD professionally and conduct yourself with respect and dignity.

You agree to request supervisor feedback and a formal evaluation prior to the due date, regardless of the internship's end date.

You agree to maintain at least a 2.0 GPA.

You agree to pay for tuition for each internship credit. If a student enrolled in Internship 4851 does not hold full-time student status during the term in which the internship occurs, tuition is charged on a per-credit basis; additional charges are incurred for each credit hour above 18.

An intern may be terminated at any time. If asked to leave a position, you agree to do so in a calm, professional manner and to inform your Internship 4851 instructor and the Office of Career Services within three business days.

Internship start/end dates may not align with academic semesters. If an internship begins before a semester's midterm, you may enroll that semester by applying and receiving approval prior to that semester's add deadline; after the semester midterm, you may enroll the following semester by applying and receiving approval prior to starting the internship.
---
Co-ops
Co-ops are an extended, immersive version of an internship that result in a minimum 480 work hours (9 credits) or 640 hours (12 credits) and may span the length of one semester. Because of the high volume of hours required, co-ops may replace certain classes within your academic plan. As such, co-op opportunities should align with your academic requirements and should only replace classes related to the work of the co-op. This requires approval from your program chair, career services, your academic advisor and the dean of your program. Career Services manages this process and has an official application you can complete.
If you're interested in pursuing a co-op position, please speak with Career Services to discuss the process for approval. Appointments can be scheduled on CCADCareers.com, by calling 614-222-4045, or by stopping by our office on the 1st floor of DSB during business hours. You can also discuss co-op opportunities during walk-in hours on Monday, Wednesday or Friday between 10 a.m. and noon.
---
Events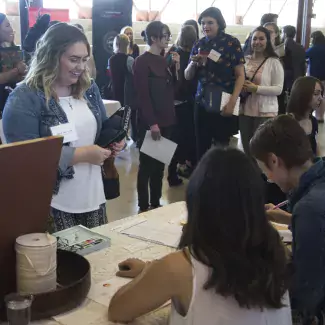 Connections Career Fair
Connections Career Fair gives employers an opportunity to recruit CCAD's undergraduate and graduate students for paid opportunities and credit-eligible internships. This year's event takes place on the third floor of the Crane Center for Design on Friday, Nov. 3, 2023 from 10 a.m. to noon. Learn more and register to participate.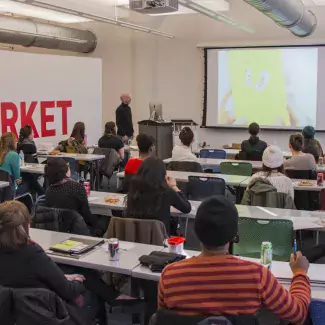 R.O.C. Show
The Recruiters on Campus series consists of individual company visits for employer partners and may include a campus tour, general information session, class visits, porfolio reviews and/or campus interviews. Stay tuned for emails from Career Services about R.O.C. Show events with employers that pertain to your area of study.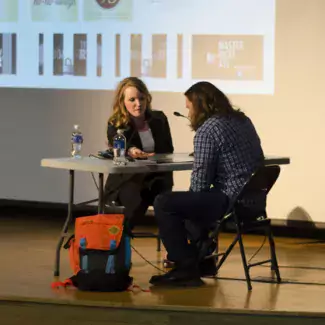 Workshops
Career Services offers various workshops throughout the year around topics including professional development, resume-building, interviewing and more. Open to current students and alumni, our workshop series is designed to help you leverage your classroom learnings and apply them to a workforce setting. Click here to view our list of upcoming workshops (requires login to CCADcareers).
The 2023 CCAD Art Fair & Marketplace will occur on Saturday, December 2nd, 2023 from 9am-2pm in the Loann Crane Center for Design. This is a juried event and all CCAD alumni and currently enrolled CCAD students are eligible to apply.
Applications open in August and close on October 1st, 2023. Apply on Zapplication. Students can waive the $25 application fee by using the coupon code StudentF23. Alumni must pay the application fee. Please read the policies about the event before applying. Refunds are not available for application, even in cases where the artist forgot to use an eligible coupon code. The Art Fair & Marketplace is open to all majors and visual arts mediums. 
Requirements for collaborative work:

Artists who work collaboratively may apply by registering as a team and submitting one application with 4 images, which should capture the nature of the artwork from both artists evenly. In Zapplication, the system where we collect applications, you can list the collaborating artists' information and submit their images. Collaborative work is limited to two artists. Collaborative/Team applications with one student artist and one alumni artist are NOT eligible for the student waiver. Non-students who apply the coupon code to the application fee will be removed from the adjudication process.

NOTE: Communication from the Art Fair team about the event will go to ONE artist on the team (primary artist in the application, not the listed collaborator. Please make sure you are relaying communication to your collaborator directly, as they might not be getting the same messages. This is a limitation of our system's communication function.

The purpose of this event is to:
Provide Columbus College of Art and Design students the opportunity to:

Practice communicating the purpose, inspiration, and techniques of their work.

Learn the process of participating in an invite-only art show.

Engage with the community.

Earn money for their creations.

Engage the creative community and art scene with CCAD.
We hope you decide to join us!